Search Inventory
Reset Criteria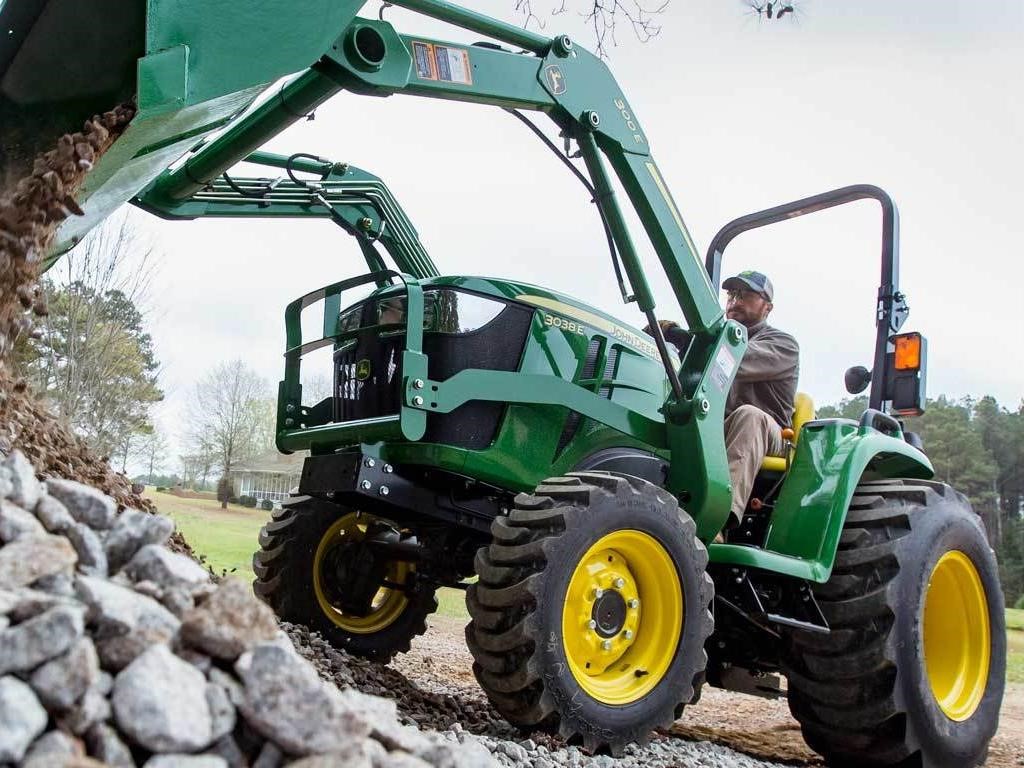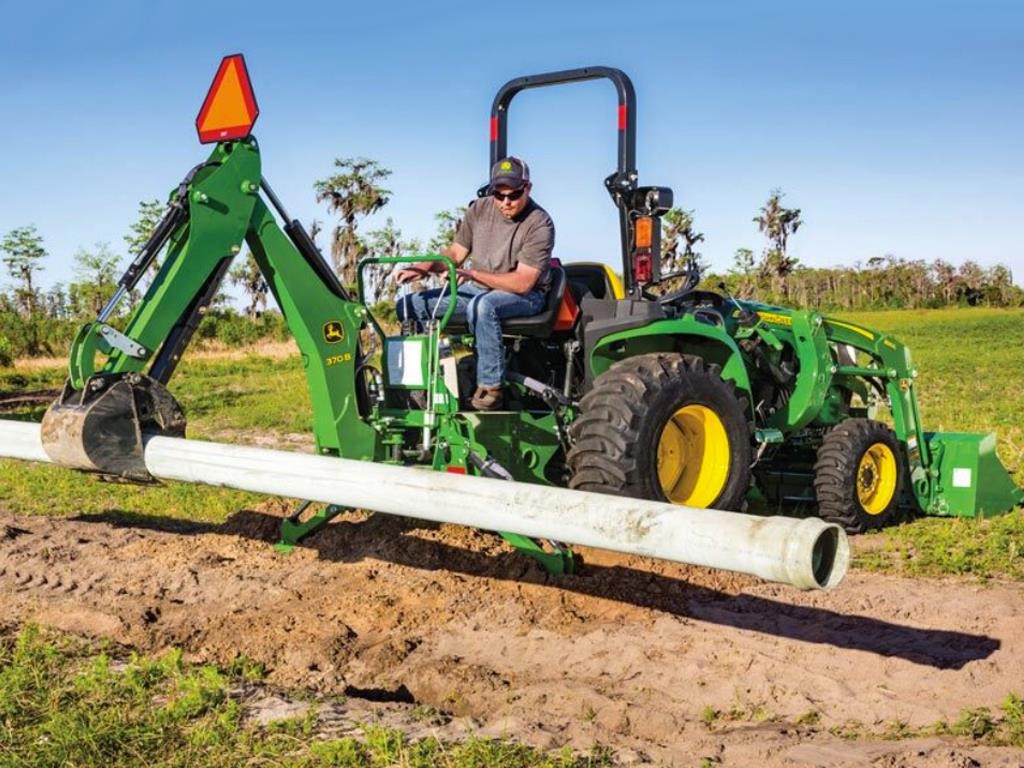 Description
JOHN DEERE COMPACT TRACTOR
Meet The Mighty Three.
Get to know John Deere 3 Series Compact Tractors. This lineup features the new 3D, the economical 3E and the phenomenal 3R. Page after page, youll find design innovation and exceptional engineering as well as attachments and implements that help you get the job done. Check out the 3s.
3038E Compact Utility Tractor
Standard four-wheel drive (4WD) for maximum traction
Hydro transmission with Twin Touch pedals for ease of use
On-board diagnostics including Service Advisor
Category 1 3-pt hitch compatible with dozens of implements
FEATURES:
RELIABLE GEAR-DRIVEN TRANSMISSION PROVIDES OPTIMUM TRACTOR PERFORMANCE
The 3D Tractors are available with a gear drive transmission with eight speeds in both forward and reverse directions . It includes a drivetrain built with heavy-duty components, similar to those used in some John Deere utility tractors. These components ensure a rugged and durable machine.
The spiral bevel gear of the 3D machine is larger in diameter than comparable tractors.
Column-mounted forward and reverse lever for increased efficiency and comfort when changing directions.
Fender-mounted gear shift lever for more comfortable shifting
SAFETY FEATURES OF THE 3D SERIES TRACTORS INCLUDE:
The tractor will only start with the forward/reverse and range levers in neutral.
The engine will shut off if the operator leaves the seat unless the forward/reverse and range levers are in neutral.
The engine will shut off if the operator leaves the seat and the power take-off (PTO) is engaged.
Key John Deere advantage - A column-mounted forward/reverse lever is a more ergonomic alternative to the floor-mounted design of the competition. Having controls at the operators fingertips allows for an effortless change in directions at any time.
Clean and simple operator station is comfortable and convenient
An uncluttered design gives operators of all sizes plenty of room to be comfortable. Color-coded controls are located on either side of the operator.
Contoured, comfortable seat enhances operator comfort.
oSeat position adjusts fore and aft
oSeat flips forward for protection from the elements
Flat operator platform provides for easy entry to/exit from the tractor.
Folding Roll-Gard rollover protective structure (ROPS) and retractable seat belt increase operator safety.
OPERATOR PRESENCE SYSTEM:
If the operator leaves the seat when the forward/reverse and range lever are in gear, the engine shuts down.
If the operator leaves the seat when the power take-off (PTO) is engaged, the engine shuts down.
LEFT-SIDE STEP
The left-side step allows for easy access on and off the tractor.
Foot platform has a non-skid surface for sure footing.
SEAT
The thick, soft padding on this seat provides a smooth and comfortable ride.
Seat flips forward for protection from the elements.
Adjustable using the fore and aft lever located under the seat, the seat slides on ramped rails to provide comfortable access to all controls.
INSTRUMENTATION
Easy-to-read instrument panel includes the following:
Tachometer
Low oil pressure indicator light
Battery discharge indicator light
PTO engagement indicator light
Signal/hazard lamp indicator lights
Multi-function liquid crystal display (LCD) display (hours, filter cleaning information, PTO speed etc.) Filter cleaning status indicator light
FUEL TANK AND GAUGE
All 3D Series Tractors come standard with a fuel gauge that is easy to read from the operator's station to ensure operators do not run out of fuel. The fuel tank is also located on the rear of the tractor to allow for easy refill.
SAFETY
Operator presence switch (OPS) in seat:
OPS requires the operator to be in the seat to operate the transmission or PTO.
ROPS is designed to meet or exceed American Society of Agricultural and Biological Engineers (ASABE) safety standards.
Reflective ROPS strips for better tractor visibility.
Seat belts are in base equipment on all John Deere compact utility tractors.
Key switch interlock prevents bypass starting.
Visual PTO warning light on the instrument panel alerts the operator when the PTO is running.
Turn signal and flashing warning lights operate according to ASABE standards.
Slow-moving vehicle (SMV) sign is provided for road transport.
PARK BRAKE
Instrument panel has an indicator light for the park brake.
TWO-POST ROLL-GARD ROPS
3D Series Tractors are equipped with Roll-Gard ROPS. These folding ROPS meet the ASABE standards for compact utility tractors.
Optional two-spool rear selective control valve (SCV) for superior implement performance
3D Series Tractors can be equipped with a field-installed rear hydraulic remote kit, providing two additional hydraulic spools on the back of the tractor. This kit can be field installed on a tractor with a loader or without a loader.
The functions are completely separate from the loader. These rear remotes can be hooked up to a wide variety of implements and attachments such as follows:
Hydraulically angled blade
Hydraulically controlled chute/spout on a 3-point hitch-mounted snow blower
Hydraulic scarifiers on a box blade
Many other hydraulic rear attachments
This versatile kit gives 3D Series Tractor operators the options they desire for putting their tractors into a wide range of tasks.
The first spool is equipped with a float position, giving the operator the ability to contour the landscape and improve the final grade with certain implements.
EXCELLENT SERVICEABILITY REDUCES OPERATIONAL COSTS AND IMPROVES PRODUCTIVITY
Regular service and maintenance are essential to the performance, productivity, and longevity of the tractor.
Easy access to most regular service points minimizes service time.
Tractors are equipped with extensive onboard self-diagnostic capabilities and are fully compatible with the John Deere-exclusive Service ADVISOR system.
Hydraulic oil service interval increased to 1200 hours when using Hy-Gard products. Hydraulic oil filter will need to be changed every 400 hours.
Fuel tank is located on the rear of the tractor to allow for easy access when fueling.
Four quarter turn fasteners allow operators to easily remove the engine side panels to access the engine compartment
Daily service requirements are minimal and simple to accomplish. Most service interval requirements can be performed with a basic understanding of procedures and common tools.
ALL ITEMS IN THE DAILY SERVICE SCHEDULE CAN BE PERFORMED WITHOUT THE USE OF TOOLS:
Engine oil, hydraulic oil, coolant level, and the water separator can be conveniently accessed.
The engine can be easily accessed by simply raising the hood for more periodic maintenance checks.
Specifications are subject to change without prior notice.
Similar models may be shown in addition to the featured model. Equipment may be shown with options.
Express Financing
Get Pre-Approved
Get a
FR8Star Shipping Estimate